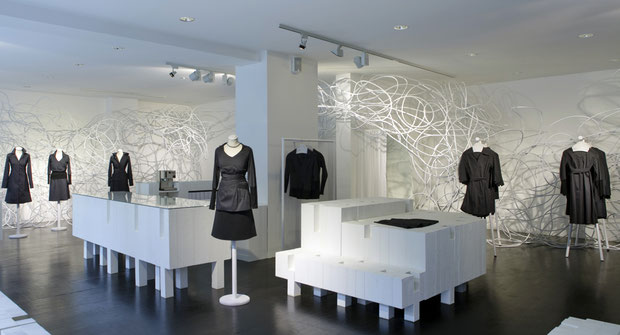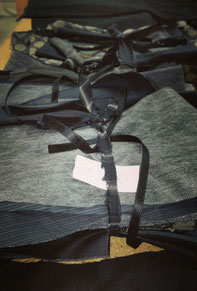 Twice a year, the fashion label NIX designs a small, fine collection for women, offering range and balance, versatile and easily combinable. The label, founded in 1991 by designer Barbara Gebhardt influenced the typical Berlin style - a mix of grunge, sportswear and workerlook.
Today, NIX fashion stands for feminine understatement with an urban charm. The look is clear, thought-out and eye-catching yet unobtrusive. Shapely, casual cuts create a relaxed, fashionable image, simultaneously forming and skimming the silhouette. Functionality and durability continue to be focal points.
The aspect of sustainability and transparency is part of NIX's philosophy, as well as quality, durability and endurable design. The collections are designed inhouse by the team in collaboration with the designer Barbara Gebhardt. NIX is a training organisation, and sample models as well as the cuts are created here: this ensures an optimum fit, saves time and avoids misunderstandings. To avoid overhangs, we produce according to the ordered quantities as accurately as possible. 
The fabrics are certified according to GOTS and garments are manufactured in a Polish family business close to Berlin. Through close contact with our customers in our own showroom, we can respond to requests and criticisms that are then taken into account in the following seasons.
NIX is an owner-managed company and therefore free in all decisions.
In addition to our Berlin business, NIX is now found all over Europe, and not exclusively in "green" boutiques, as more and more shops discover the sustainable fashion segment for themselves. We participate in international fashion fairs such as the Innatex and Ethical and are represented by the agencies Fairwear Agentur and Fair Fashion Kontor Boberg in Germany, Switzerland and Austria. All shops are listed on our website and you can order online. Our Berlin showroom customers can have the garments adjusted or altered for free if need be. We also offer custom-made pieces based on our collection models, as well as repair and change old NIX models.
Buying in shops with sustainable green principles means being able to trust the selection of the textile retailer. More and more fashion-oriented boutiques have started to deal with sustainable fashion and are changing or adapting their offer. Familiarizing oneself with the different seals is worth it. This is especially important for textiles from the Far East, here one should pay close attention to the fairtrade hanger. If produced in Germany, one can assume that the local labor laws were complied with. For the purchase of materials GOTS applies.
 
Cheaper only works in massproduction, even in green fashion.
By now there are also big labels who want to get into the subject and attend to the mainstream.
The most sustainable practice is to buy less and pay attention to quality.
Green fashion has long outgrown its alternative image.
Today, everyone can dress fashionably and ecologically, it is no longer a contradiction but a matter of priority.
The techniques for recycled raw materials, for example polymers from PET bottles and yarns from old jeans are increasingly being improved. New basic materials are also being discovered, such as rhubarb or pineapple imitation leather, 100% vegan.
Twice a year we organize a NIX second hand project. Our customers can return NIX clothing from past collections, and receive points that can be credited to the new models.
We repair or modify these clothes and sell them at a much lower price under the title "NIX OF OTHERS"
This way even women with a small budget can finally wear NIX.
...so that you can say later that you knew of NIX!!